DISCLAIMER: Do not consider any information in this blog post as financial advice. Do not participate in Polkadot Parachain Lease Offering if you are not sure what you are doing. At the time of writing current investments of author and WeAre include DOT and other Polkadot related projects.
UPDATE 23.11.2021:
Acala won the first slot. Moonbeam auction closed their PLO as they have most DOT gathered. Third slot seems to be going for Astar, fourth for Parallel finance. Clover Finance and Manta network are at the moment almost tied for the fifth slot.

---
The first batch of Polkadot's Parachain Lease Offerings (PLO) is here! Those who want to participate can support their favorite Polkadot projects by loaning them some DOT tokens for 96 weeks in a crowdloan. The 5 projects that gather most DOT will get a parachain slot lease and can become a fully integrated part of the Polkadot ecosystem. The projects that don't win a slot can still have their chance in the next batches. Those will happen next year.

If all of this is completely new to you check out previous blog posts: Introduction to blockchain and cryptocurrenies and Polkadot ecosystem deep dive
When?
November 11th, 2021 is the day when auctions start for the first slot. The crowdloan participation is already possible at the time of writing. Each auction will last for one week and only after the last auction are the projects able to use the parachain slot they win. The last auction ends on December 16th and at that time the DOT tokens are returned by the projects that did not win a parachain slot.

Second batch is scheduled for December 23th, 2021 to March 10th, 2022. It will have 6 slots available.
Which projects are likely to win?
The top-5 projects that offer most DOT tokens for the lease will win. There are many factors affecting the result like:
How much DOT tokens community owns,
How much DOT is owned by the project itself,
How good rewards are given to attract potential investors
Almost all of the projects participating in the first batch of Polkadot PLOs also had their Kusama counterparts participating in the Kusama PLO. Of course there are no guarantees that the results will be the same but past performance could give some idea how it will play out.
Here are the participating projects ranked by how much KSM their Kusama project gathered. (Some projects gathered more KSM by a later slot so the slot number won is different than "KSM gathered" ranking)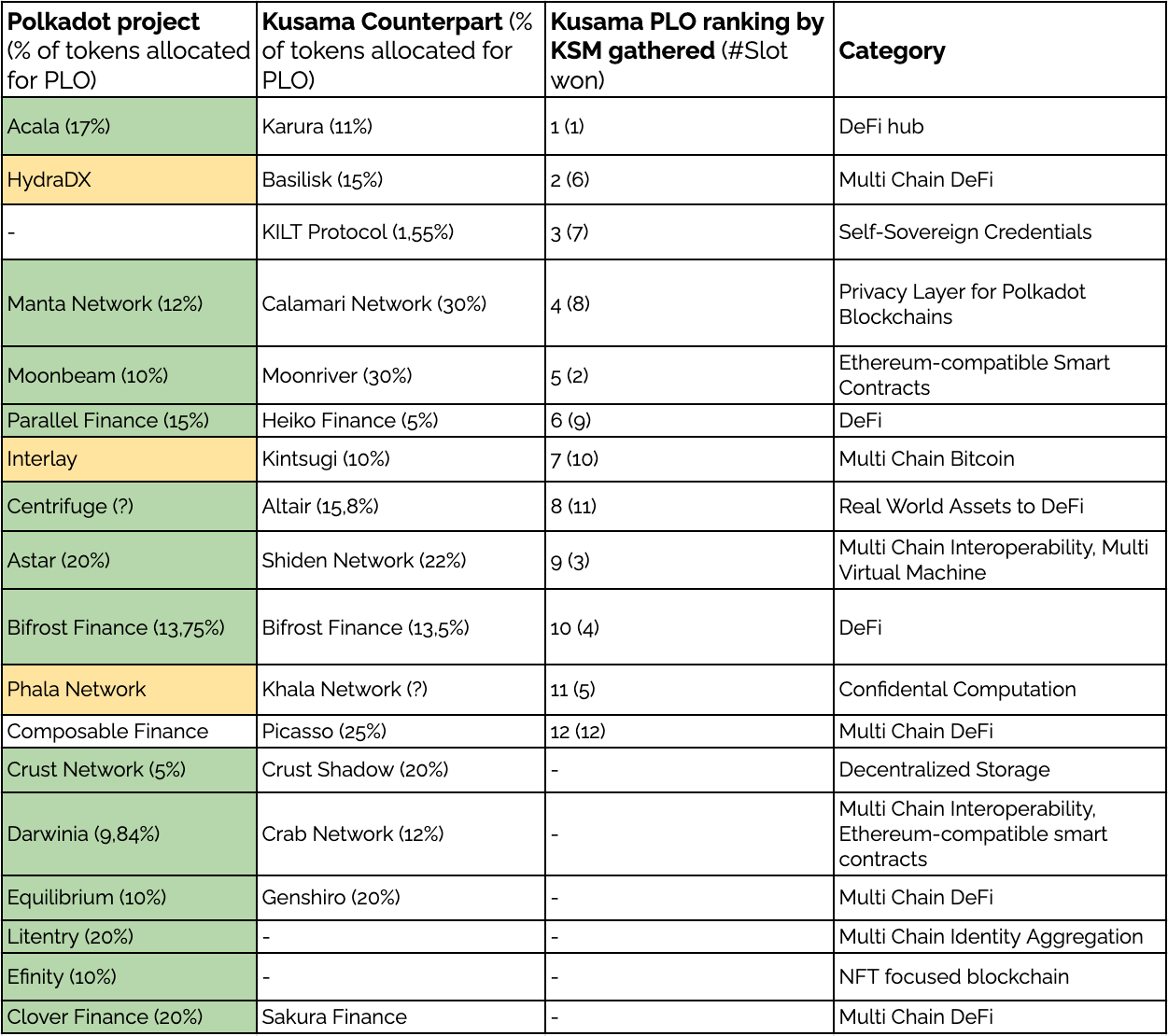 Green: Announced attending 1st batch, Yellow: Attending 2nd batch
Even though it is fun to strategize and predict the outcome it is good to keep in mind that a two year loan is a long time especially in crypto. A lot will happen during that time and doing due diligence on the project before supporting them is important.
How to participate?
Easiest way to participate is through crypto exchanges like Kraken or Binance. That way the exchange will handle all the technical details and there is very little room for error. The exchanges usually take a cut of the rewards for this convenience.
For full rewards one has to participate with a non-custodial wallet. Each project has their own system on how they handle the crowdloan but most support the browser extension PolkadotJs. Here is a video tutorial for that from Polkadot team. Here is also a Step-By-Step Tutorial from holdpolkadot.com.
In Kusama PLO some of the projects gave extra rewards to those who supported them through non-custodial wallets. Karura gave out a NFT and access to Build Acala sale. Moonriver gave access to their Moonbeam Take Flight sale. Calamari Network gave access to their Squad Game event. This time there will be similar rewards from the Polkadot projects. Also supporting a crowdloan through non-custodial wallet will give a permanent proof of being part of the projects early community.
Why support projects?
Without the support of the community it will be hard for a project to win a parachain slot. So if the community wants to see their project have functionalities that will be enabled by the parachain slot, it is a good idea to participate in the crowdloan.
The projects can use any method they like to gather DOT for the parachain slot auction (PLO). As an incentive the projects give out their native tokens as a reward to the supporters. Some give out up to 20% of their tokens that will ever exist. So for those who want to own these tokens this is one way to get them as early as possible.
Checklist for those who want to participate:
Have wallet or exchange account ready
Have unlocked (not staked) DOT ready to participate with (minimum 5 DOT)
Get a referral code for the crowdloan for bonuses (if available)
Support the projects you like
Some have limits on how much DOT contributions they accept
Some give extra rewards for participating before the actual auction begins
Creative ways to participate
Some might not like the fact that the tokens get locked for such a long time in the crowdloan. To solve this liquidity issue Equilibrium, one of the projects participating, offers xDOT as a solution. For every DOT contributed through their system, they give out equal amount of xDOT which can be claimed into real DOT at the end of the lease period. This enables utility for the DOT tokens that would be otherwise just locked away for two years. To learn more check their: Fluid xDOT page


Source: Equilibrium website
Similar methods are also offered by Parallel Finance and Bifrost Finance. In Parallel also give their PARA tokens as extra rewards even when contributing to other projects through them. Previously Bifrost has given extra rewards for some projects when participating in Kusama PLO. Also Binance exchanges BDOT offers similar solution when participating through them.

Some risks to consider
DOT and project token prices fluctuate so it is impossible to predict end results for investors.
The project tokens usually get awarded slowly over the 2 year period. So participating as a short term speculator might not be a good idea.
If the project doesn't win any of the slots in the auction, the DOT tokens are returned at the end of the auction. If one participates at the earliest possible time this would mean a six week lockup period potentially without any reward.
DOT tokens loaned could instead be staked and have around 13% yearly interest. The rewards earned through crowdloan can end up being less than this.
Technical failures on projects/users/exchanges side could end up in a loss of funds.
Phishing sites and other scams are trying to get user funds in various ways. Make sure to only use official sources.
Great resources to take a look at:
Parachain Slot Auctions – Basic information straight from the source (Polkadot)
Parachains.info – Great live information about ongoing auctions and projects
All the project websites linked in the ranking table (link at the name of the project)
Links to project pages (Polkadot Project – Kusama counterpart)
Related blogs
This blog post first goes through the basics of cryptocurrency mining and then more about the current situation of the industry and where the focus will be on GPU mining. Here are some of the vocabulary that might help you while reading this blog. GPU – Graphics…

---
This blog post first goes through the basics of cryptocurrency mining and then more about the current situation of the industry and where the focus will be on GPU mining. Here are some of the vocabulary that might help you while reading this blog. GPU – Graphics…

---

This blog post first goes through the basics of cryptocurrency mining and then more about the current situation of the industry and where the focus will be on GPU mining. Here are some of the vocabulary that might help you while reading this blog. GPU – Graphics…

---

This first deep dive will introduce you to the Polkadot project and the ecosystem that is building around it. It is one of the most anticipated blockchain projects and is at the time of writing just about to be fully launched. If blockchains are a completely new…

---

I promised to write about this topic so here you go! If you are completely new to blockchain and cryptocurrencies I recommend checking out this post: Introduction to blockchain and cryptocurrencies. Now since everyone is up to speed let's go on. To understand the future…

---