Smart equipment rental within arm's reach
In implementing applications, a usual bottleneck is an underlying non-flexible platform solution, which can be hard to adapt to your own needs. WeAre Solutions uses low-code components as a base for applications, which speed up the development work and provide direct access to ready-to-use applications. This allows the solution to be tested faster and the addition of new features does not depend on the limitations of the system. The user experience, operating environment and imagination guide further development.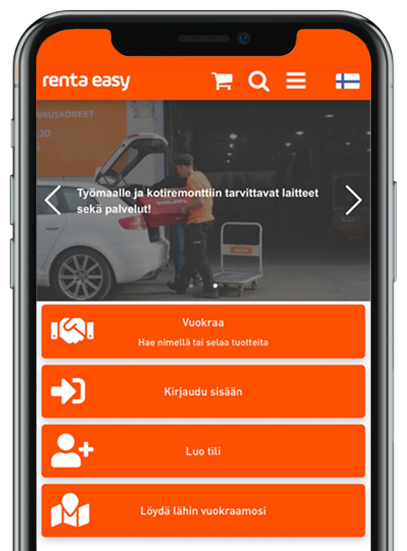 Renta Easy, a smart fleet management application that fits in your pocket, launched in the summer of 2017. For consumers, Renta Easy acts in its simplicity as a webstore or rental service, while in business use it is a fully-fledged fleet management system. The development work began from the needs of the end customer.
The application allows you to rent and manage equipment through a clear interface. The use of the application must be possible by phone or tablet directly from the construction site. The customer can easily view equipment costs and, for example, optimize the amount of rented equipment on construction sites by monitoring their use.
Renta Easy shows in real-time e.g. the location information, utilization rate and site-specific billing information for rented machinery. If the customer is considering whether it makes more sense to purchase their own machine or continue renting, Renta Easy will help in assessing which solution is better for the customer. Missing machines have also been recovered based on location information.
Renta Easy makes smart proposals to the user based on their order. If you are renting a boom lift, the application will suggest a safety harness to go with it. Additional batteries are offered with battery-powered equipment and extension cords for corded equipment. When the application takes into account things that the user didn't consider, it produces a great service experience, and increases customer loyalty. Both are incredibly valuable parts of online shopping.
Renta Visuals & Modules
Augmented reality (AR) and Virtual reality (VR) offer interesting opportunities to present spaces, products, and environments. Developed to accompany the Renta Modules design tool, Renta Visuals leverages the 3D user experience.
Renta Tools
The challenge in managing equipment maintenance and rentals has traditionally been the manual processes and fragmented information flow. Artificial intelligence can collect and combine information from a variety of sources and use it to guide staff in their activities.