Internal processes in order with an intelligent ERP
The challenge in managing equipment maintenance and rentals has traditionally been the manual processes and fragmented information flow. Artificial intelligence can collect and combine information from a variety of sources and use it to guide staff in their activities.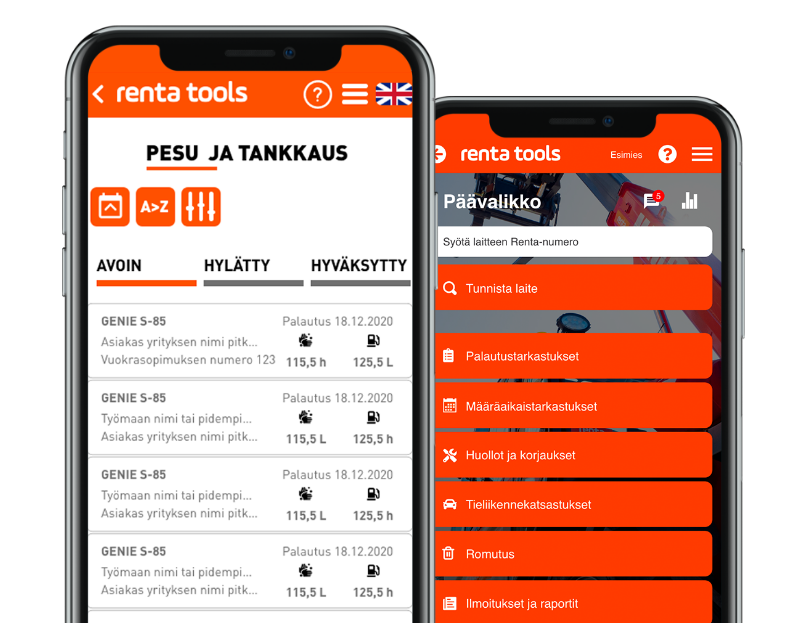 Artificial intelligence in the Renta Tools application helps to optimize the flow of returning and outgoing rental equipment. It automatically sorts the returned equipment and learns to identify the equipment that has the biggest demand at any given time. Renta Tools includes an automated return process that identifies maintenance needs based on the device and its operating history. After maintenance, the device is automatically returned to Renta Easy, where it can be made available to rent in an area where it is most in demand.
In this way, Renta is able to serve a larger number of customers with less equipment. The customer is also able to monitor the usage of the rented machines, so that they aren't standing idle at their construction sites. ERP assisted by artificial intelligence provides a cost-effective and effortless service. When the utilization rate of equipment is high and the functions are efficient, savings are also generated from an environmental point of view. It is concretely reflected in the reduction of the company's carbon footprint.
The intelligent ERP system is able to extensively combine the data generated by the company's business functions. From the data, it produces optimal solutions for e-commerce, maintenance, inventory management as well as for sales and management. In the transition to a digital economy, those who invest in learning and scalable technologies are the ones in the driver's seat.
RENTA EASY
Renta Easy, a smart fleet management application that fits in your pocket, launched in the summer of 2017. For consumers, Renta Easy acts in its simplicity as a webstore or rental service, while in business use it is a fully-fledged fleet management system.
Renta Visuals & Modules
Augmented reality (AR) and Virtual reality (VR) offer interesting opportunities to present spaces, products, and environments. Developed to accompany the Renta Modules design tool, Renta Visuals leverages the 3D user experience.