Virtuality becoming mainstream
Augmented reality (AR) and Virtual reality (VR) offer interesting opportunities to present spaces, products, and environments. Developed to accompany the Renta Modules design tool, Renta Visuals leverages the 3D user experience.
If you only look at a floor plan, it can be difficult to figure out what the spaces will look like when installed and how they will meet the needs of the worksite. If you instead put on a pair of 3D glasses, and have a virtual walk inside the premises, you are making it easier for the customer to make suggestions for changes , and ultimately the decision to purchase.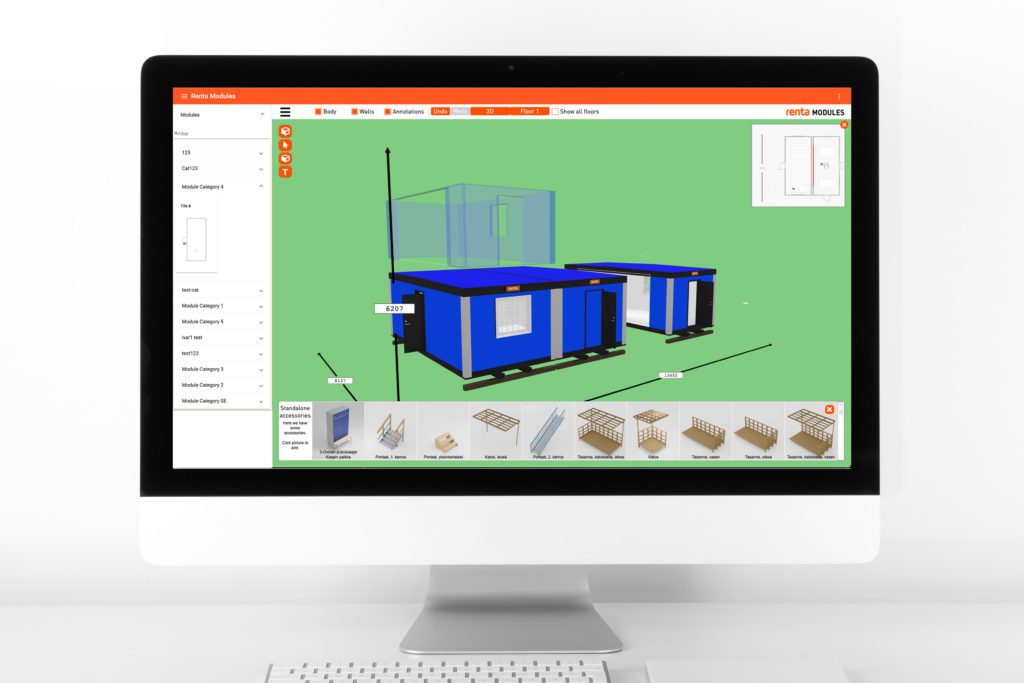 Renta Visuals transforms plans into virtual reality, so the customer can see with 3D glasses, a computer, or a smartphone screen what the designed spaces look like.
For Renta, the Visuals app is the first step in leveraging virtual reality. In the future, the use of AR and VR may also be involved in equipment demonstrations, user guides, and training. This is an illustrative and memorable way of presenting that is suitable for many use cases.
RENTA EASY
Renta Easy, a smart fleet management application that fits in your pocket, launched in the summer of 2017. For consumers, Renta Easy acts in its simplicity as a webstore or rental service, while in business use it is a fully-fledged fleet management system.
Renta Tools
The challenge in managing equipment maintenance and rentals has traditionally been the manual processes and fragmented information flow. Artificial intelligence can collect and combine information from a variety of sources and use it to guide staff in their activities.